THEATRE SUCKS
IT'S A WONDERFUL LIFE (7.5/10)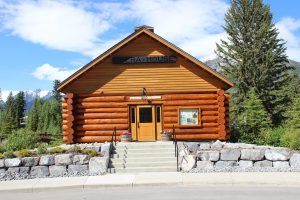 Did you know there are two Canmore Opera Houses? Calgarians will be familiar with the one in Heritage Park which came to Calgary in 1964, donated by its then owner, Canmore Mines Ltd. With theatre blossoming in Canmore, it might be nice if Heritage Park were to give it back. That not being too likely, developer Frank Kernick has built a new one, modelled on the log cabin aesthetic of the original.
This is where Theatre Canmore is performing their production of the Joe Landry adaptation of Frank Capra's 1946 movie classic It's a Wonderful Life. It's like Christmas chocolates in a wonderful rustic box.
This production does have its rough edges. Landry sets his play in a recording studio back in the golden age of radio. But rather than treat the scripts the characters carry as props, actors actually read from them, giving this production something of the quality of a staged reading, complete with the sorts of stumbles one finds with them. Ideally, actors would memorize their lines and act reading them, much more reliable, and we would see noses in scripts less often.
Alternatively, if the actors have to read, then more rehearsal might be beneficial to perfect that art. The clumsiness in some of the musical moments with singing, as well as the somewhat uncoordinated curtain call, also suggest that this show may not have received sufficient rehearsal. As well, the director, Gerry McAuley also acts in the piece, which may have deprived the production at times of a critical outside eye. It may have been better if McAuley had restricted himself to acting. Because he turns in a wonderful performance.
The entire cast approaches the piece with a spirit appropriate to it and to the season. Two actors stand out in particular, McAuley and JeremyWhite. McAuley plays a variety of roles, Mr. Potter and the radio announcer. McAuley has worked in radio, and as an announcer he is absolutely perfect, the real deal, his dialect that of the period and his delivery flawless. His Mr. Potter is every bit as nasty and conniving as the character demands, his barking delivery exactly in the right key.
By far the most demanding role is that of George Bailey, and White rises to the challenge. He excels most at the gentle, quirky side of the character, at times almost being the living embodiment of Jimmy Stewart. He doesn't have Stewart's range yet; Stewart could be that gentle bumbler, but he could also let loose with the fire. I couldn't help feeling at times White was holding himself back, perhaps too much defining the character in those gentle terms he manages so well? I don't know, but I did want to see him reveal to us more of the very deep passion of the character that exists beneath that gentle, good exterior. But overall, White captures the essence.
Sound effects were ably provided live by Martin Finnerty, adding to the comic dimension and old time feel.
And, despite the rough edges, I give it a 7.5 in large measure because of the overall feel. It's wholesome without being Hallmark, and fits very neatly into that reflection of old times, the new Canmore Opera House. It succeeds very well in providing something genuinely Christmasy in this Christmasy season. If that's what you're looking for, then check it out if you have the opportunity (if you're short or have little ones arrive early and grab a seat near the front; the seats are not raked). Two more shows, December 16th and 17th at 7:30 pm.
---
AESCHYLUS: FRAGMENTS (8.5/10)
I saw Theatre Encounter's production of Aeschylus: Fragments last night. It is hard to define exactly as to form, but might be described as a dance piece in the Japanese Butoh style.
Music director John Warkentin is also a performer in the piece, primarily playing his trombone. His soundscape is a combination of classical pieces and original composition which demonstrate the range of sounds this instrument can make -- this is not what you would expect to hear from a trombone player in the philharmonic, or even mainstream jazz! Warkentin's ease with (and mastery of) the instrument is a pleasure to experience.
Performers and co-creators Kayla Bigras and Val Duncan move about in this soundscape in the very stark and often athletic Butoh style, which is interestingly evocative of formal Greek theatre as well; one would be tempted to call it a highly successful synthesis of two cultural traditions. I did find myself missing the clown at times, as the whole thing feels very archetypal, but oh so serious!
I suspect Bigras and Duncan have worked together before, as they move together like artists who have complete trust in one another.
I found myself missing story. I regard story as essential to theatre. But this is, as the title suggests, fragmentary, non-narrative, bits and pieces of lost work. I give it an 8.5 out of 10 for my impression of their success in achieving the objectives they set for themselves as I've divined them.
Also I've long thought theatre should subscribe to something of Wagner's idea of Gesamtkunstwerk, or "total artwork", but preferably without congealing into muscular Germanic melodrama. It ought to be possible to have wonderful artistic theatricality in the service of story and characters who engage us, who move us at the level of the heart. One so seldom sees that realized.
If you are as committed to story as I am, you may find parts of this production opaque and may want to give it a miss. If you like modern dance, or are intrigued by Butoh practice, then you will want to see this. If you hunger for theatricality in theatre, feel starved for it as I do, then you will definitely want to catch this production. It is food for a theatre artist's soul.
But catch it soon, as it is only a three day run, November 16th to 18th.